| | |
| --- | --- |
| Country | Malta |
| Region | Europe |
| Minimum investment | EUR 52,000 |
| Additional fees from | EUR 68,000 |
| Investment type | Donation + Real estate |
| Program type | Residency |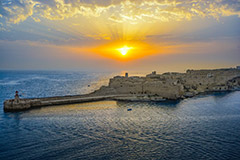 Malta is a popular holiday destination with excellent air links, but it is also an attractive place to live or have a second home. As the country is a member of the EU and the Schengen area, Maltese residents can travel freely within the Schengen zone and make use of the free trade opportunities within the EU.
Acquiring Maltese residency through investment is straightforward and extremely fast. You and your family members gain the right to live on Malta indefinitely, but there is no physical residence requirement. You will also have to possibility for a tax-exemption on your worldwide income.