| | |
| --- | --- |
| Country | Malta |
| Region | Europe |
| Minimum investment | EUR 600,000 + EUR 80,000 + EUR 10,000 |
| Additional fees from | EUR 16,500 |
| Investment type | Investment + Real estate + Donation |
| Program type | Citizenship |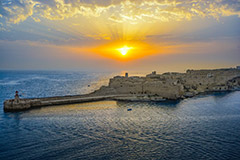 Highlights
Malta is a picturesque island country in the Mediterranean, and it is a member of the EU and the Schengen zone. Its rich history, high standard of living and excellent air links make it an attractive place to live or own a second home. Since the Maltese passport grants you the right to live, study, work and own land anywhere in the EU, as well as visa-free travel to an outstanding number of countries, the citizenship-by-investment program of Malta is excellent value for money. The application process is efficient and strict, ensuring a select group of new citizens. Naturally, close family members can be included in the citizenship application.
Family
Your financially dependent close family members can be included in your citizenship application for additional cost. This includes your spouse, all children under 18 (also from previous marriages), unmarried dependent children between 18 and 29, and dependent parents or grandparents (either yours or your spouse's).
Program description
To apply for citizenship, you and the family members included in your application must have resident status for at least 12 months immediately preceding the citizenship application. Note that this does not mean a physical residence requirement, only the existence of a residence permit. Furthermore, you must commit to maintaining a residential property in Malta for at least 5 years, invest in government-approved financial assets and make a non-refundable donation to a local NGO. Once you have passed the diligence checks, you receive Maltese citizenship for life, which can be passed on to your descendants born afterwards.
Travel options
With a Maltese passport, you and your family members can live, study, work and own land anywhere in the EU. Moreover, you will have access to visa-free travel to over 150 countries including the EU, the UK, Australia, Canada and the USA. Malta's membership in the Schengen zone also means you will be able to travel without passport controls within the zone.
Financial terms
Citizenship through investment in Malta requires three transactions. First, you have to invest EUR 600,000 in government-approved projects, and maintain the investment for at least 5 years. If you want the expedited procedure, with citizenship in just 12 months instead of 36, the investment amount is at least EUR 750,000. For every additional dependent, the investment requirement increases by EUR 50,000.
Second, you have to buy or rent property on Malta for a period of at least 5 years. If you decide to buy, you have to purchase real estate for at least EUR 700,000. Alternatively, you can lease a property for at least EUR 16,000 per annum.
Additional fees include a due diligence fee of EUR 15,000 for the main applicant and any third-parties contributing financially to the investment (EUR 10,000 for dependents), and another EUR 1,500 / person for the application fees.