| | |
| --- | --- |
| Country | Malta |
| Region | Europe |
| Minimum investment | EUR 52,000 |
| Additional fees from | EUR 68,000 |
| Investment type | Donation + Real estate |
| Program type | Residency |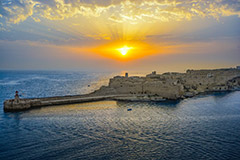 Highlights
Malta is a popular holiday destination with excellent air links, but it is also an attractive place to live or have a second home. As the country is a member of the EU and the Schengen area, Maltese residents can travel freely within the Schengen zone and make use of the free trade opportunities within the EU.
Acquiring Maltese residency through investment is straightforward and extremely fast. You and your family members gain the right to live on Malta indefinitely, but there is no physical residence requirement. You will also have to possibility for a tax-exemption on your worldwide income.
Family
It is easy to extend the benefits of a Maltese RP to your family: once you received your permit, your close family members can apply for their own permits via family reunification. This includes your spouse, all children under 18 (also from previous marriages), unmarried dependent children, and dependent parents or grandparents (either yours or your spouse's).
Program description
The Maltese golden residency program is among the fastest in Europe: it only takes 4-6 months. The process is also quite straightforward. You will have to pass stringent due diligence checks, confirming that you have a clear criminal record and that you have assets worth at least EUR 500,000, of which at least EUR 150,000 are financial assets. If you are eligible, you can make the required investments and pay the processing fees specified below, after which you can receive your residence permit. You only have to travel to Malta once during the procedure, to have your biometric data registered. Family members can acquire residence permits based on the family reunification procedure once the main applicant's permit has been granted. You do not have to physically live in Malta once you acquired your RP, but you have to maintain your residential property. Your residence permit is initially granted for 5 years, but it is renewable indefinitely, and the investment only has to be maintained for the first 5 years.
Travel options
A Maltese residence permit grants you and your family unrestricted travel rights within the Schengen zone in the EU. It also makes it possible for you to reside in Malta indefinitely.
Financial terms
Residency through investment in Malta requires three transactions. First, you have to buy or rent property in Malta, to be maintained as long as your residence permit is valid, but at least for the first 5 years. If you decide to buy, you have to purchase real estate for at least EUR 350,000 (EUR 300,000 for South Malta or Gozo). Alternatively, you can lease a property for at least EUR 12,000 per annum (EUR 10,000 in South Malta or Gozo).
Second, you have to pay a non-refundable administration fee in two instalments. The first instalment is EUR 40,000, which is supposed to cover administrative fees. The second instalment will depend on whether you rent or purchase: for rentals, it is EUR 58,000, for purchases, it is EUR 28,000.
Third, you must make a charitable donation of EUR 2,000 to an NGO in Malta, approved by the Residency Malta Agency.
For each dependent, an additional government fee is to be paid, which is EUR 7,500 for the spouse, parents and grandparents, and EUR 5,000 for every other person included in the application (which includes adult or minor children of the applicant.