| | |
| --- | --- |
| Country | United States of America |
| Region | Americas |
| Minimum investment | USD 500,000 |
| Additional fees from | USD 10,415 |
| Investment type | Business |
| Program type | Residency |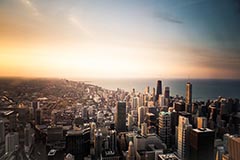 Highlights
The USA is the most desired destination for relocation, be it for private or business purposes. The residency-by-investment program called EB-5 lets you and your family obtain a green card in 18-30 months, and permanent residency after 4 years. You do not have to demonstrate any language skills, business experience or education, and you do not have to live in the area where you make your investment. You can live, work and study anywhere within the USA after becoming a resident.
Family
You can include your spouse and children below 21 in your application.
Program description
First, you will have to locate an investment project eligible for the residency program, deposit the funds to an escrow account and file your application. The decision is typically made in 12-18 months. Most programs return your investment if your residency application is rejected. Once your application is approved, you will be granted a visa and your conditional permanent resident status within 6-9 months. Finally, after holding a conditional permit for 2 years, you can apply for unconditional permanent resident status (green card).
Travel options
US resident status allows you visa-free travel to several European and Caribbean countries. If you decide to apply for a US passport after gaining non-conditional permanent residency, you will be able to travel visa-free to more than 150 countries including the EU (Schengen) Australia, Canada and the UK.
Financial terms
There are two possibilities for investment for residency purposes. You can invest in a Regional Center – these are government-approved investment opportunities for immigration purposes. You have to invest a minimum of USD 500,000, and create at least 10 job opportunities (indirect employment is permitted). For this option, no direct overseeing of day-to-day business activities is required.
The second option is to create a new company for at least USD 1 million, or USD 500,000 in rural areas with a high unemployment rate. You will have to directly employ at least 10 qualified US workers, and actively manage the company yourself.
The investment has to be maintained for 4 years in both cases (until the green card is granted). Returns and risks on your investment are entirely subject to market forces.
There are various application and submission fees to be paid during the application process, totaling USD 10,415 for a single applicant. The precise amount of fees payable depends on the number and age of your family members on your application – please contact us for a tailored quote.