| | |
| --- | --- |
| Country | United Arab Emirates |
| Region | Middle East |
| Minimum investment | AED 1,000,000 (EUR 250,000) |
| Additional fees from | AED 1,100 (EUR 280) |
| Investment type | Real estate |
| Program type | Residency |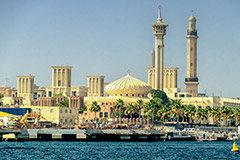 Highlights
The United Arab Emirates, especially Dubai, have become an attractive destination for expatriates. Its international community, vibrant nightlife, warm climate, booming economy and low-tax environment offer ideal living conditions. Thanks to the new residency-by-investment program, you and your family can easily receive a residence permit. The process is extremely fast, taking just 1 week or 1 month depending on the type of permit.
Family
You can include your spouse, as well as dependent children in your application without the need for increasing the investment.
Program description
The most important requirement to qualify for residency is that the property you buy needs to be residential and habitable. That is, real estate projects yet to be completed are not eligible, and neither are commercial properties.
You can get two visa types based on your investment. First, you can get a 6-month multiple entry visa. The processing time for this is usually around a week, and it is exempt from most additional fees.  
Second, you can apply for a 2-year residential visa. This option takes slightly longer to process (around a month), and there are additional requirements such as proof of financial means to support yourself and your family, as well as a yearly renewable property license.
Travel options
Both visa types let you enter and re-enter the UAE an unlimited number of times for their entire duration.
Financial terms
To obtain residency by investment, you have to purchase a habitable residential property for a minimum of AED 1 million (cca. EUR 250,000).
Additional costs include a visa fee of AED 1,100 (EUR 280) for both types of visas, as well as a clerical fee of AED 400 (EUR 100) and an annual property license fee of AED 2000 (EUR 500) for the two-year visa. Please note that the fees quoted here apply to single applicants, and additional costs may apply for your family members. Contact us for an exact quote tailored to your situation.