| | |
| --- | --- |
| Country | Switzerland |
| Region | Europe |
| Minimum investment | CHF 1,000,000 |
| Additional fees from | |
| Investment type | Taxes / Business |
| Program type | Residency |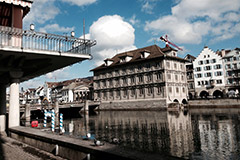 Highlights
Switzerland is well-known for its world-class finance system, very high standard of living, excellent education and healthcare, and great political stability. It is a member of the Schengen zone, ensuring visa-free travel for residents and their families. Its golden residence program is aimed at educated and wealthy individuals, and it grants Swiss residency for you and your family in just 2-4 months.
Family
The Swiss golden visa application can include your close family members: your spouse and minor children (under 18).
Program description
To apply for Swiss residency, you must be under 55 years of age and have no criminal record. A stringent interview is also part of the application process, and it is much more structured than other golden visa programs. The process is quite fast, with only 2-4 months between submission and receiving residency.
Travel options
As soon as your residence permit is granted, you and your family will have full visa-free access to all 26 countries of the Schengen zone in Europe.
Financial terms
You can invest into a pre-approved business with a minimum value of CHF 1 million. You must demonstrate that your investment benefits the community by retaining existing jobs or creating new ones, simulating new technologies or the development of the region. The investment must be made in the canton where you will reside, and maintained for the duration of your residency.