| | |
| --- | --- |
| Country | Portugal |
| Region | Europe |
| Minimum investment | EUR 250,000 |
| Additional fees from | EUR 20,000 |
| Investment type | Real estate / Donation / Business |
| Program type | Residency |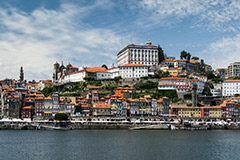 Highlights
Portugal is not only a popular holiday destination but it is also an EU member state with excellent schools and universities, first-class health care, an extremely favorable private and corporate environment, and a Schengen zone membership. The golden residence permit program is one of the fastest and most affordable in Europe, enabling you and your close family members to travel visa-free within the Schengen zone.
Family
With the family unification procedure, your close family members can also receive  Portuguese residency. This includes your spouse or partner, children under 18, dependent children over 18 if they are not married and are planning to study in Portugal, as well your and your spouse's dependent parents. Other relatives might be eligible on a case-by-case basis.
You will be required to present proof of a residential property (buy or lease), as well as an income of at least EUR 12,000 per annum for each adult and EUR 6,000 for each child.
Program description
The program is one of the fastest in the world, with the typical duration of 2-5 months. If your application is granted, you will receive a temporary residence permit valid for 1 year. This can be renewed twice for 2 years each. After 5 years of residency, you will be eligible for permanent resident status. After 1 year of permanent residency, you can apply for Portuguese citizenship and a passport.
You only have to travel to Portugal once during the application process. After you receive your residency, you do not have to live in Portugal: you only have to spend 7 days in the country in the first year, and 14 days within the next two years.
Travel options
The Portuguese residence permit allows for visa-free travel within the Schengen zone. If you acquire Portuguese citizenship (possible after 6 years of residency), you will be able to extend visa-free travel to over 150 countries including Australia, Canada and the USA.
Financial terms
There are six possible ways to acquire Portuguese residency by investment. You can purchase real estate for at least EUR 500,000, make a capital investment to a Portuguese bank account or flexible investment for at least EUR 1 million, create at least 10 jobs in Portugal, donate a minimum of EUR 350,000 for research activities, donate a minimum of EUR 250,000 for supporting arts and the maintenance of cultural heritage, or invest at least EUR 500,000 in small and medium-sized Portuguese companies.
In addition to your investment, you will have to pay a legal fee of EUR 20,000 for the main investor and EUR 4,000 for each family member.