| | |
| --- | --- |
| Country | Malaysia |
| Region | Asia |
| Minimum investment | MYR 500,000 (USD 135,000) |
| Additional fees from | MYR 90 (USD 20) |
| Investment type | Bank deposit |
| Program type | Residency |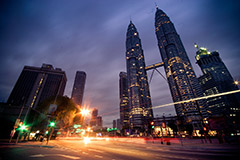 Highlights
Malaysia is among the most thriving economies in Southeast Asia, which has benefited from continued industrial development and decade-long political stability. The country is an extremely popular tourist destination, offering breathtaking beaches and rainforests, and its cultural and ethnic diversity also make it an ideal second home for foreign investors. The golden residency program of Malaysia requires a relatively modest bank deposit to secure residency rights for you and your family.
Family
The program allows the main applicant to include their spouse and dependent children under 21 in their application. No extra deposit is required.
Program description
The golden residency program offers a 10-year, multiple-entry visa to investors and their families, the practical equivalent to a non-permanent residence permit. The criteria are quite straightforward: you must deposit a certain amount in a Malaysian bank, provide proof of assets and yearly income, purchase health insurance, and undergo a basic health check.
Travel options
You and your family members will be able to enter and re-enter Malaysia without restrictions for a period of 10 years.
Financial terms
There are different criteria based on the age of the applicant.
For applicants below 50, proof of assets of at least MYR 500,000 (USD 135,000), as well as proof of income of at least MYR 10,000 (USD 3,000) per month has to be provided. Upon approval, you have to make a bank deposit of MYR 300,000 (USD 80,000). You can spend half of the deposited sum after 1 year on buying a house, education or medical care, while you have to keep the other half for the duration of the residency.
For those over 50, proof of assets for a minimum of MYR 350,000 (USD 95,000) has to be provided, along with a monthly income of MYR 10,000 (USD 3,000). When your application is approved, you have to deposit MYR 150,000 (USD 40,000) in a Malaysian bank. After 1 year, one third of the sum can be spent on buying a house, education or medical care, while the rest of the deposit has to be maintained until the end of your residency. Applicants receiving a pension may be exempt from the deposit requirement under certain conditions, to be decided on a case-by-case basis.