| | |
| --- | --- |
| Country | Hungary |
| Region | Europe |
| Minimum investment | EUR 300,000 |
| Additional fees from | EUR 60,000 |
| Investment type | Government bond |
| Program type | Life-time permanent residency |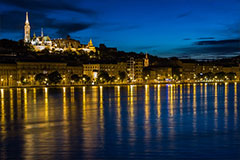 Highlights
THIS PROGRAM IS CURRENTLY SUSPENDED. WE WILL UPDATE THIS PAGE WITH NEW INFORMATION AS SOON AS IT BECOMES AVAILABLE.
Click here for similar options in Europe
The Hungarian residency bond program offers amazing value for money – remarkably affordable, a one-time safe investment of EUR 300,000 gets you and your family (including parents, spouse and all dependent children!) life-time permanent residency in the heart of Europe. Hungary is also one of Europe's best-kept secrets: low living cost, excellent public education, virtually no violent street crime, inexpensive real estate, great moderate climate, 9% corporate tax, and lots of little-known perks like countless thermal baths all around the country and one of the world's most beautiful capital cities.
Family
The application covers the main applicant, the spouse (husband or wife) and any children under 18. Older dependent children and parents can be included at a small extra fee. This means that you can guarantee a safe place of residency and easy travel not only for yourself but for your loved ones as well.
Program description
The Hungarian investment residency program is the cheapest state-guaranteed golden visa program in Europe. You do not have to visit Hungary to apply, nor is there a minimum stay requirement once you get the residency. There are no additional requirements like health check, country of origin restrictions, or proof of origin of funds. Once you transfer the investment amount, we start processing your paperwork immediately, and you can expect your residency card as early as in a month.
Travel options
Once you have residency in Hungary, you can travel into and within the Schengen zone without a visa for up to 90 days at a time. Since there is no minimum stay in Hungary, you can use this resident permit for visiting any European destination of your choice, for holidays or for business. Currently there is no expedited citizenship option for this program but after holding a PR for 5 years you do become eligible for citizenship and a passport. The Hungarian passport is highly valued because it allows you to travel visa-free to a number of locations, including the US and Canada (as well as Europe, of course).
Financial terms
This program is 100% secure, as the investment serves to purchase a government bond that is guaranteed by the state of Hungary. There is no interest for the investor but there is also zero risk (unlike, for example, real estate investment). The investment is returned to you in full after 5 years.