| | |
| --- | --- |
| Country | Germany |
| Region | Europe |
| Minimum investment | EUR 1,000,000 |
| Additional fees from | EUR 30,000 |
| Investment type | Business |
| Program type | Residency |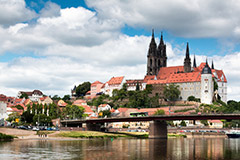 Highlights
Germany is one of the most influential countries in the world in terms of politics, economic power and business opportunities. It is the largest nation in Western Europe, with an excellent infrastructure, education, healthcare and social benefit systems, and a core member of the EU and the Schengen zone. By investing in a German company, you and your family members can receive German residency in a relatively short time, granting you visa-free access to all countries in the Schengen area and the rest of Europe. There is no physical residency requirement, and you will be eligible for citizenship after a few years of residency.
Family
You can extend the benefits of your German residence permit to your immediate family members including your spouse and minor children with no extra investment requirement. As soon as your residency is granted, you can apply for dependent permits for your loved ones based on family unification.
Program description
You will have to document that you have the investment amount at your disposal and that you obtained it by legal means. You also have to have the financial means to sustain yourself and your family, as well as medical insurance for at least EUR 30,000. If all documentation is complete and it is decided that your investment is beneficial for the country as a whole or a particular region, your permit will be granted within just 6-8 months. The permit will grant you the same rights as German citizens have, apart from the ability to vote in parliamentary elections and run for office. You do not have to physically reside in the country.
After 5 years of having lawful residency in Germany, you can apply for settlement. Note, however, that additional requirements regarding the knowledge of the German language and culture apply for this process.
Travel options
As soon as your residence permit is granted, you and your family will have full visa-free access to all 26 countries of the Schengen zone in Europe. If you acquire German citizenship, you will receive the most powerful passport in the world, granting you visa-free travel rights to over 170 countries including the EU (Schengen), the UK, Australia, Canada and the USA.
Financial terms
The prerequisite for getting German residency based on investment is that your business is of significant benefit for the region or the whole country. As a rule of thumb, you will be expected to invest EUR 1 million in a German company (new or existing one), and create and maintain 10 jobs for German nationals. Contrary to some other programs, having a local sponsor for your application is not required.