| | |
| --- | --- |
| Country | France |
| Region | Europe |
| Minimum investment | EUR 10,000,000 |
| Additional fees from | |
| Investment type | Business |
| Program type | Residency |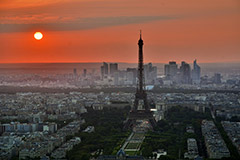 Highlights
The French golden residency program is aimed at ultra-high net worth individuals. By investing a fixed sum, you and your family will receive a residence permit for 10 years, enjoying rights equivalent to those of French citizens. You will have immediate access to free high-quality health care, world-class education opportunities, and full visa-free travel within the Schengen zone. Processing only takes 2 months, and does not require any managerial experience, prior residence in France, language skill or physical residence after approval are required.
Family
You immediate family members can be included in your application at no extra cost. For the French program, your spouse and minor children are eligible.
Program description
The application process only takes 2 months, after which you and your loved ones receive a 10-year resident permit. You do not have to have any previous managerial experience, language skills or prior residence in France. Furthermore, you do not have to live in France once the permit is granted.
Travel options
As soon as your residence permit is granted, you and your family will have full visa-free access to all 26 countries of the Schengen zone in Europe.
Financial terms
Applicants have to invest at least EUR 10 million in industrial or commercial assets in France. You can make the investment personally, or via a company in which you own at least 30% of shares. No additional investment is required for including family members.
The investment can be made alone, together with friends or partners, or as part of an investment program approved by the authorities. 
Getting your residence permit does not automatically mean that you become a tax resident in France. If you will spend most of your time outside France, your worldwide income will remain tax free, and only the profits from your investment in France will be taxed.