| | |
| --- | --- |
| Country | Cyprus |
| Region | Europe |
| Minimum investment | EUR 330,000 |
| Additional fees from | EUR 550 |
| Investment type | Real estate + Bank deposit |
| Program type | Residency |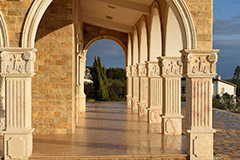 Highlights
The island of Cyprus, located geographically and culturally between Europe, the Middle East and North Africa, offers an extremely fast permanent residency program with a high approval rate. Residency in Cyprus gives you and your family members access to high quality private schools with English-language courses. The country is about to join the Schengen zone, with the additional benefit of free movement within Europe. You do not have to physically live in the country after getting permanent residency, and you only have to travel there once during the application process.
Family
The benefits of the Cyprus residency program can be extended to your immediate family: your spouse, children under 18, dependent adult children under 25, and dependent parents.
Program description
This program has one of the fastest processing times in the world: applicants typically receive their RP within 2 months, and the approval rate is really high. While you will be required to purchase and maintain property on Cyprus, there is no physical residency requirement (you only need to visit once every 2 years).
To qualify for residency by investment, you have to purchase new property on Cyprus for at least EUR 300,000 and make a bank deposit of EUR 30,000. In addition, you have to secure and document and annual income from abroad: minimally EUR 30,000 per couple, plus EUR 5,000 for each additional child and EUR 8,000 for each additional parent.
You will only have to travel to Cyprus once, to provide your biometric data. This visit can be scheduled any time during the application process or immediately after approval.
Travel options
Cyprus is about to join the Schengen zone, which will give permanent residents unrestricted travel within most of Europe.
Financial terms
Applicants must purchase new property for at least EUR 300,000 on Cyprus, and submit the sales contract and the proof of transferring at least EUR 200,000 of the price with their residency application. The property can also be bought by a company if the applicant or their spouse is the sole shareholder.
In addition, a bank deposit of EUR 30,000 must be made to a bank in Cyprus, and remain there for three years. After this, the whole amount will be returned to the investor.
The government fee payable for submitting the residence permit application is €500 per couple, plus EUR 70 for each added dependent. For biometric data capturing, a fee of EUR 50 per person is payable.