| | |
| --- | --- |
| Country | Bulgaria |
| Region | Europe |
| Minimum investment | BGN 1 million (EUR 512,000) |
| Additional fees from | EUR 25,000 |
| Investment type | Government bond |
| Program type | Residency |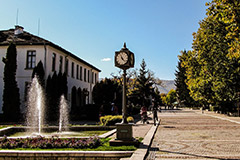 Highlights
A member of the EU and soon to join the Schengen zone, Bulgaria offers an attractive golden residency program. It offers high-quality health care, low tax rates and access to the free EU market. Processing time is 6-9 months, and obtaining a residence permit makes you eligible for fast-track citizenship. You do not have to give up your current passport, you do not have to speak the local language, and you do not have to reside in Bulgaria after becoming a resident, giving you the option for a tax exemption on world-wide income.
Family
The benefits of Bulgarian permanent residency are available to your family members as well. Once your residency is granted, your spouse and children of any age can acquire residency based on family reunification.
Program description
You become a permanent resident in 6-9 months from submission. You will have to make two trips to a Bulgarian Consulate in your home country, and two trips to Bulgaria during the process. After your file has been prepared, you will sign it at a Bulgarian consulate, and then transfer the investment amount. Once your investment certificate is issued, you visit the Consulate a second time to apply for a D-type visa. With the visa granted, you make your first trip to Bulgaria to submit your permanent residency application. Finally, you make your second trip to Bulgarian to pick up your PR card.
Once the main applicant has obtained his or her PR, family members can also submit their application. Each applicant will be required to make two trips to Bulgaria.
Travel options
Currently, Bulgarian residence permit grants visa-free travel to Romania, Cyprus and Croatia. Once Bulgaria enters the Schengen agreement, you will gain full access to the whole of the EU, including the UK. If you decide to obtain Bulgarian citizenship, you will be eligible for visa-free travel to 143 and have the right to live and work anywhere in the EU.
Financial terms
You must deposit BGN 1 million (appr. EUR 512,000) in a Governmental Bond Portfolio for 5 years. At the end of this period, the full amount will be returned to you (without interest). Your investment is fully guaranteed by the Bulgarian government. It is also possible to finance the required amount through a European bank. A processing fee of EUR 25,000 applies for couples, with EUR 2,500 payable for each child under 18.