| | |
| --- | --- |
| Country | Saint Lucia |
| Region | Caribbean |
| Minimum investment | USD 100,000 |
| Additional fees from | USD 9,500 |
| Investment type | Real estate / Investment / Donation |
| Program type | Citizenship |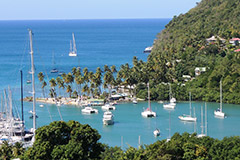 Highlights
Saint Lucia, a breathtaking Caribbean island, offers one of the fastest golden passport programs in the world. You will be able to travel to more than 100 countries visa-free, and your close family members can also be included in the application. There is no general requirement to travel to Saint Lucia in person during the application process, and no residence requirement connected to Saint Lucian citizenship. You will not have to pay tax on your worldwide income.
Family
Family members can be included in your application if they are financially dependent on you. This way, you can extend the comfort and security of your new passport to those closest to you. This includes dependent children under the age of 25, as well as dependent parents and grandparents over 65 are eligible. Furthermore, dependent family members with special needs can also be considered outside these age brackets
Program description
The citizenship-by-investment program of Saint Lucia is fast and straightforward: it only takes 3-4 months. You are  not required to have previous managerial experience or qualifications. The application can be submitted electronically or on paper from your home country. The investment has to be made within 60 days of receiving the government's approval.
Travel options
The Saint Lucia passport is of great value: you will be able to travel visa-free to 118 countries including the Schengen zone in Europe, the UK and Hong Kong.
Financial terms
There are 3 investment options under the golden passport program of Saint Lucia. First, you can  make a non-refundable donation of at least USD 100,000.
Second, you can invest in a government-approved real estate project, and keep the investment for at least 5 years. The minimum real estate investment amount is USD 300,000.
The third option is to invest in an Enterprise Project. For single investments, the minimum requirement is USD 3,500,000 plus the creation of at least 3 permanent jobs. In the case of joint investments, each applicant has to contribute at least USD 1,000,000 to the total investment of minimally USD 6,000,000. Under the joint option, the minimum of permanent jobs to be created is 6.
For each investment option, a due diligence fee of USD 7,500 and a government processing fee of USD 2,000 is payable. In addition, a government administration fee of USD 50,000 is payable for real estate and Enterprise Project investments.
The amounts quoted here apply to single applicants, and they vary based on the number and age of family members included in the citizenship application. Contact us for a precise quote tailored to your situation.