| | |
| --- | --- |
| Country | Georgia |
| Region | Europe |
| Minimum investment | EUR 300,000 |
| Additional fees from | - |
| Investment type | Donation |
| Program type | Citizenship |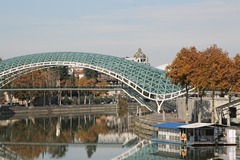 Highlights
Georgia lies on the eastern side of the Black sea, which means it is located right on the border of Europe and Asia. With its mild climate and developing economy, it is an ideal venue for business or relocation. Although not a member of nor the EU neither the Schengen zone, since March 2017 its citizens can travel to Schengen countries without a visa, which makes the Georgians citizenship program remarkably cost-effective for anyone looking for a simple Schengen visa – available for the whole family with a single, one-time donation.
Family
Your application can include your immediate family members, meaning your spouse and all your dependent children under the age of 26. For this, the amount of the donation does not have to be increased.
Program description
Within the framework of the Georgian Citizenship Program, you become eligible for Georgian citizenship if you make a significant donation to the state treasury. This is a one-time, non-refundable expense that grants you citizenship for life.
The application procedure is fast, as getting Georgian citizenship takes only about one month after the donation is made and the application is submitted. There are no restrictions on dual citizenship.
The sum of the donation to be made is EUR 300,000, whether or not you are applying together with family members.
It seems over the summer of 2017 there will be a special promotional period, where the sum of the expected donation will be lowered to EUR 200,000. If you want to take advantage of the promotion, watch our blog, or ask our colleagues to keep you updated on the Georgian Citizenship Program.
Travel options
Once your Georgian citizenship is granted, you can get a Georgian passport. With this you will be able to travel visa free to any of the 26 countries of the Schengen zone in Europe. Besides, Georgia also offers visa-free travel to further European, Asian and Central American countries, including Turkey, Ukraine, Mongolia, Colombia, or the Bahamas.
Financial terms
For becoming eligible for Georgian citizenship, a single donation of EUR 300,000 is required (regardless of applying alone or with your family). Once the donation is made, you can apply at the immigration office with the documents attesting the transfer.