| | |
| --- | --- |
| Country | Cyprus |
| Region | Europe |
| Minimum investment | EUR 2,000,000 |
| Additional fees from | EUR 7,000 |
| Investment type | Real estate / Business |
| Program type | Citizenship |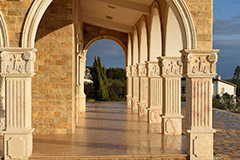 Highlights
Cyprus, strategically located between continental Europe, the Middle East and Africa in the Mediterranean Sea, has one of the fastest and most affordable golden passport programs in the EU. Once a citizen, you and your family can travel visa-free to more than 150 countries including the EU, the UK and Canada, and you will have unrestricted right to live, work, study and buy property anywhere in the EU. Cyprus is one of the safest countries in the world, with an excellent education system and first-class health care. You do not have to reside in Cyprus after acquiring citizenship, there is no language requirement, and as tax resident you can benefit from one of the lowest tax rates in the EU.
Family
You can extend the many benefits of your new Cyprus passport to your close family members as well. This includes children under 18, children between 18 and 25 provided they are students and financially dependent on you, and your and your spouse's parents provided they also purchase residential property on Cyprus. Naturally, your spouse can also be included in your application, and this possibility is extended to civil unions as well.
Program description
The application procedure is extremely fast: the typical duration is only 3 months. There are no restrictions on dual citizenship. You do not have to reside in Cyprus to maintain citizenship; it is enough to make a visit every 7 years. Once your citizenship is granted, you will be able to enjoy the travel benefits, education opportunities and security of this peaceful EU country.
Travel options
A Cyprus passport is extremely widely accepted for visa-free travel: you can enter over 150 countries without a visa, including the EU, the UK and Canada.
Financial terms
In order to obtain a golden passport from Cyprus, you need to invest EUR 2 million in either a real estate project, a Cyprus company employing at least 5 citizens, financial assets of Cyprus enterprises, or a combination of these. The investment has to be maintained for at least 3 years.
In addition, you must buy a residential property in Cyprus for at least EUR 500,000 and maintain it for life. If you choose the real estate investment option, the price of your residential property counts towards the EUR 2 million minimum limit. If your or your spouse's parents are also included in the application, they must also buy a property for at least EUR 500,000. Alternatively, a combined property for a minimum of EUR 1 million can be purchased for both couples applying together.
The government fees for the citizenship application amount to EUR 7,000 per adult. The amount of advisory fees depend on the number and age of family members included – get in touch for a precise quote tailored to your situation.