| | |
| --- | --- |
| Country | Antigua and Barbuda |
| Region | Caribbean |
| Minimum investment | USD 200,000 |
| Additional fees from | USD 57,500 |
| Investment type | Real estate / Donation / Business |
| Program type | Citizenship |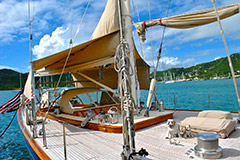 Highlights
Antigua and Barbuda, a Caribbean island of stunning natural beauty, offers one of the fastest golden visa programs with a variety of investment options. Close family members can also be included in the application. There is no general requirement to travel to Antigua in person during the application process, and no residence requirement connected to Antiguan citizenship. You will not have to pay tax on your worldwide income, and there is no capital gains tax, estate taxes or personal income tax, either. The Antiguan citizenship-by-investment program also accepts Iranian applicants.
Family
You can include your immediate family members in your application, so the excellent travel options will be available for your loved ones as well. This applies to your spouse, your children under 26 and parents or grandparents over 65 (provided they are financially dependent on you). Parents included in the program must reside with the main applicant. Children are eligible as long as they are students.
Program description
The application process is quite straightforward, and it only takes 3-4 months from the date of submission until you receive your passport. You can submit your application from your home country, and there is no requirement to reside in Antigua and Barbuda before or after becoming a citizen. You only have to spend 5 days in the country within the 5 years after getting your citizenship.
Under the real estate option, the application timeframe may vary depending upon the project. Therefore, it is important to select a real estate project that is able to provide the necessary paperwork required from the developer for the citizenship application.
Travel options
The Antiguan passport is highly valued, as it enables you to travel visa-free to 135 countries including the Schengen zone in Europe, the UK, Canada, Hong Kong and Singapore.
Financial terms
There are three options for obtaining Antiguan citizenship by investment. The first one is a non-refundable contribution of USD 200,000 National Development Fund. Alternatively, you can make an investment of at least USD 400,000 into a state-approved real estate project, to be maintained for 5 years or until a substantial part of the project is completed. Finally, you can invest a minimum of USD 1,500,000 into an eligible business (individual investment) or at least USD 400,000 (joint investment totalling USD 5,000,000).
Additional fees include a government processing fee of USD 50,000 per person and a due diligence fee starting from 7,500 USD. The precise amount of additional fees depends on the number and age of family members included in the application – contact us for a precise quote tailored to your situation.